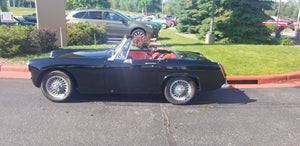 An 1965 Austin-Healey Sprite that is currently in excellent shape! It was restored and painted over 28 years ago. The paint is still solid and shiny, however a few "beauty marks" exist from its extensive travels. No rust is present on or under this car. 
It sports a early 70's vintage 1275 engine that runs strong and leaks the usual amount of oil. No abnormal noises exist and the car starts immediately. The generator has been changed to an alternator in the past 4-5 years. Brakes are disc on the front and drums on the rear. Sometime in the early 2000's we installed a Datsun 5 speed kit. This transmission has transformed the car both in highway and city driving. 
The red with white trim interior is in excellent condition, no rips or tears are present, carpets and seats all look terrific. The glass is clear without stone chips or windshield wiper streaks. A new top was installed last year June. The car does not have a current safety, The owner believes that it would not take much to do the safety and it could possibly be negotiated as part of the deal. 
The owner states "I've driven this car everywhere we've had club events, attended most all of the Rendezvous locations without any serious mechanical problems. It's proven to be a solid and very reliable car. With our move to Edmonton it now seems that the time has come to have someone else take up the stewardship of this wonderful little car". 
This car is currently stored in Winnipeg.  Arrangements can be made for viewing.
Inquiries email: rwmolyneux@gmail.com or telephone Rob at (204) 227-4307.
Or email Dyrk at jbolger@shaw.ca.
Offers at $10,000.00 CAN.